Wednesday, August 25th, 2010
Once upon a time there was a pitcher who was nearly as celebrated as Stephen Strasburg — a phenom, a whiz, an over-the-top fastballer whose mid-90s down-in-the-zone pitches defeated even the best hitters. But Dean Chance will not go down in baseball history as Hall of Famer or even as one of baseball's near greats, but rather as a one-time memorable figure whose talent and savvy brought him from the small Ohio hamlet of Wooster to the hallowed streets of Hollywood. Those were the days: when Hollywood legends packed the stands of the Dodger Stadium (which the expansion Angels shared with the N.L. legends), to oggle the young and brash stalwarts of "the singing cowboy's" newest entrants into the Yankee-dominated American League. The most celebrated Angel of all was Robert Boris "Bo" Belinsky, the lefty throwing pool hustling playboy-athlete whose 1962 no-hit, no-run feat against Baltimore's Orioles launched him into the headlines — and into the arms of (among others) Mamie Van Dorn, Connie Stevens and Ann-Margret.
In spite of their attraction to L.A. celebrity-wood, the 1961 expansion Angels were predictably poor. But the 1962 Angels were a fairytale, matching the Yankees in win for win as Hollywood oohed and ahhed and celebrated — prematurely. The Angels went through a late-season swoon and finished third. But with the storied, oh-so-handsome and charismatic Belinsky (a former "street rat" from New York by way of Trenton), on the mound, everyone thought the future was bright. The Angels would conquer both the Yankees and the American League  — and Bo Belinsky (handsome and blessed with a flash-bang smile), would lead the way. It was not to be: after his meteoric rise, Belinsky's fame undid him, drowning a  promising career in years of dissipation — until (in later life), he became a reformed alcoholic and born again Christian living in Las Vegas (of all places). And as Belinsky fell, so too did the Angels, reverting to their losing ways and finishing 9th in 1963. Thus, Bo Belinsky.
Not Dean Chance. Like Belinsky, Chance was young and handsome. And, like Belinsky, Chance could pitch — could pitch so well, in fact, that he left hitters shaking their heads and walking back to the dugout. But that's where the similarity ended. Unlike Belinsky, who dreamed of stardom and Hollywood and beautiful women, Chance dreamed of baseball. And unlike Belinsky, street smart and tough, Chance was a small town boy who grew up on a farm. Then too, Chance was dedicated to the game and, while he "ran" with Belinsky (and became his lifelong friend), he was never awed by flashing cameras, beautiful women — or the glitter of Hollywood. While the young Belinsky spent his New York childhood dodging the cops and tossing nickels on street corners, the 6-3 Chance spent his Ohio childhood listening to the Indians on the radio . . . and dreamed of becoming a ballplayer. And when the Indians weren't playing (when the  midwest winds wickered across Ohio's cornfields), Chance spent his time dreaming about being a boxer. "When I was growing up I always wanted to be a ballplayer," Chance recently told a baseball reporter. "But I always loved boxing, too. I grew up listening to and watching Joe Louis and Rocky Marciano. Boy, were they exciting."
Chance was a "puncher." He styled his mound tactics in the same way that '60s boxers styled their straight-ahead heavyweight tilts — he bored in on hitters, ratcheting up his fastball into the mid-90s, before dropping it (unpredictably) onto the outside corner. In high school Chance was not only unhittable, he became the most talked about young hurler in Ohio baseball history. His high school records remain unequaled: he threw 17 no hitters at Wooster high school — the closest contender is another Ohioan, Tom Engle, who threw six straight back in 1989. In 1962, as Belinsky was making headlines (though he was only 10-11) and dating the stars, Chance began his own career with the Angels, forging a workmanlike 14-10 campaign. In 1963, both of them struggled: Belinsky was 2-9 and Chance was 13-18. But, just as Belinsky was fading, Chance was becoming a premier pitcher. In 1964, as the Angels struggled to finish just two games over .500, Chance compiled a breathtaking 20-9 record and became (at 23) the youngest player to that point to win a Cy Young award. His 1964 campaign remains among the most memorable in A.L. history, in large part because Chance pitched better against the Yankees than he did against any other team: "It's Chance, not CBS, who owns the Yankees. Lock, stock and barrel," Angel's center fielder Albie Pierson said during the season. "When Dean pitched, the Yankees became a bunch of guys in pantyhose . . . they had no chance."
Belinsky couldn't keep up. As Chance was making baseball history, Belinsky was struggling with his control (he would go 9-8 in 1964), and with his personal life. Flitting from date-to-date, and being photographed with the glitterati, Belinsky's lifestyle (his constant fist fights, most notoriously, with an L.A. Times beat reporter) and his interminable scrapes with the Beverly Hills constabulary — was wearing thin with Angel's owner Gene Autry. After the end of the '64 campaign, Autry decided he'd had enough and traded Belinsky to the Philadelphia Phillies. But Belinsky's fame preceded him, as Phillies fans viewed the new duo of Bunning and Belinsky as Philadelphia's salvation; the two even appeared together on the cover of Sports Illustrated. Back in L.A., farmboy Chance continued to labor; and while the Wooster native would never equal the near perfection of his Cy Young year, his ten-year career remains a talisman of consistency — he won 20 games for the Twins in 1967, an astonishing 18 of them were complete. His career nosedived after 1968 (when he was 16-16), and, in 1971, he retired to Wooster, where he became a boxing promoter and manager and formed a respected sanctioning organization — the International Boxing Association.
Now, at age 68, Chance will talk baseball (and boxing) with anyone who will sit and listen. "The greatest defensive player I ever faced was Brooks Robinson," Chance told one reporter several years ago. "The greatest relief pitcher was Dick Radatz of the Red Sox. The toughest hitters I ever faced were Tony Oliva of the Twins and Carl Yastrzemski of the Red Sox. They always hit me the other way. If I had a runner on third and no outs, those were the last guys I'd want to see at the plate." Chance says his biggest thrill as a major leaguer was winning the 1964 Cy Young award. That may well be. But for fans of baseball, the most memorable event in the life of the Ohio farmboy-made-good, came on this date in 1967, when Chance threw the best game of his career — a no hitter against the Cleveland Indians. That in itself might not be historic, except that Chance's no-hitter was the second he threw that month. The first had come on August 15 — when he no-hit the Red Sox.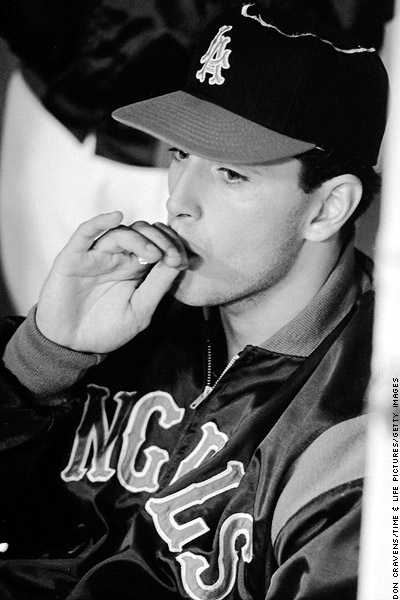 (above: Dean Chance as a rookie; below: Bo Belinsky in the Angel's clubhouse.)