Friday, December 11th, 2009
Bob Costas had Bob Feller on his baseball show last week and "the Heater from Van Meter" was as outspoken and irascible as always. And fascinating. Feller, the former Cleveland great is now 90, knows how to turn a phrase, loves baseball — and has little modesty when it comes to dropping names of the great and near-great. He spent time with the Babe ("he was the best to ever play the game," he said) and Gehrig. The three of them would head out to the bars in New York and Ruth "would bend an elbow" and Gehrig would be drinking water and not saying very much. "We never talked about baseball," Feller told Costas. Feller thought Ruth was a fascinating man and much beloved and never had a bad word to say about anyone.
Feller was proud that in that last great picture of Ruth (the one where he's leaning on a bat with his head down and the crowd is around him), the bat he used was Feller's. The Indians were playing the Yankees that day and Ruth grabbed a bat from the Cleveland dugout to steady himself and he stood there and he waved his hat and then he listened to the cheers come down and he leaned on Feller's bat. Feller took the bat and saved it and it's now in his museum, just off of I-81 in Van Meter, Iowa. "The Babe was a very sick man," Feller said. "He was dead in five months."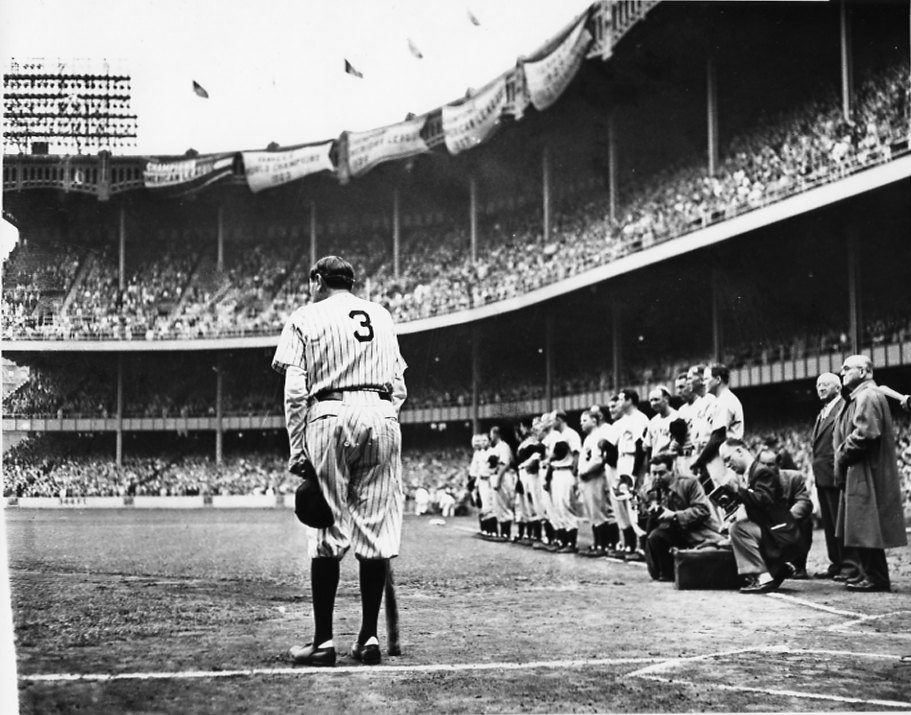 Like Ruth, Feller doesn't give the impression of being very modest, but he knows the game and loves it and he has decided opinions on pitchers and hitters. He's an admirer of Nolan Ryan ("he's a very close friend of mine," he told Costas) and believes Sandy Koufax (I tilted an ear to hear this and think I got it right) was the best lefty he'd ever seen and "for five years" the best pitcher in baseball. Feller should know, I suppose, but vaulting Koufax to the top of the lefty list puts him ahead of Warren Spahn and Lefty Gomez. Feller talked about his own vaunted speed, saying that he had been clocked at 107 mph — an amazing feat if true. But no one was faster than Johnson, he said. He talked about World War Two, with Costas noting that Feller's three years off to fight the war probably cost him 300 wins — and perhaps as many as 350-360. Feller says he has no regrets. "That was one we had to win," he said. "Studio 42" (the Costas program) showed Feller in the Navy. Feller was a part of "The Great Mariana Turkey Shoot" in the Philippine Sea in June of 1944.  "If you were killed you were a hero," Feller said. "If you didn't you were a survivor."  
Feller said that the champion 1948 Indians team (on which he played) was a good team, but not nearly as good as the 1954 team that lost four straight to the New York Giants. In '48, Feller lost a first game nail biter to Braves' pitcher Johnny Sain and then an 11-5 blow-out to Warren Spahn. Satchell Paige relieved Feller in the blow-out and Feller talked about him. "He was 44 at the time," he said. "He claimed he was 42 but he was 44," and then went on to talk about the barnstorming white teams that he had put together to play the Negro Leaguers prior to baseball's integration. Paige, he said, had a wicked fastball "but not much of a curve." The 1954 series, a 4-0 New York Giants sweep. Feller cited Willie Mays' catch in the first game and Giants' pitcher Johnny Antonelli's pitching as the reasons for the sweep. "Antonelli never pitched better in his life," he said.
Feller's most interesting comments, however, had to do with hitters. He was particularly outspoken — blunt really — when talking about his success against great hitters. "Gehrig couldn't hit me," he said, "not at all." During the last games of 1938, Feller recounted, he put Greenberg down in order to kill whatever chance the Detroit first sacker had of breaking Ruth's home run record. Greenberg had 58 round-trippers that year, in addition to 146 RBIs. He walked 119 times. But he couldn't solve Feller, who issued one of the best baseball one-liners I've ever heard: "Hank Greenberg couldn't hit me with an ironing board," he said. Rapid Robert's answer to Costa's question about who hit him well came as something of a surprise: "Tommy Henrich," he said, and there was an edge of defiance in his voice. The great ones couldn't hit Feller — one of the few who mastered Gehrig — but Tommy Henrich sprayed him to all fields.
Tommy Henrich is one of those Yankees who played in the shadow of Gehrig and Ruth and DiMaggio — but he was beloved by his teammates: in part because he seemed to play harder when the Yankees were behind. He had four World Series rings with a lifetime batting average of .282 with 183 home runs. Like Feller, he took three years away from baseball during World War II. He hit .308 with 25 HRs and 100 RBI in 1948, arguably his best season. But "Old Reliable" is probably best known for his heads-up play in the 1941 Series that might have saved the series for the Yankees. With Brooklyn set to tie the series at two games apiece and leading 4-3 with two outs in the ninth, Henrich came to the plate. With the count at 3-2 he swung at strike three. But Trolley catcher Mickey Owen couldn't handle the ball and Henrich was safe at first. Joe DiMaggio then singled, and Charlie Keller doubled to score both runners and take the lead. Joe Gordon later doubled to bring in two more runs, and the Yankees had a 7-4 victory and a 3-1 Series lead. And the Yankees went on to win the series.
Henrich was a fine ball player and a good man. He was known for his glove in the outfield, his mentoring of younger players, his deep voice and good sense of humor — and his ability to hit the heck out of Bob Feller. Feller still can't figure it out. "It's just one of those things." Oddly, a mere two weeks before the Costas-Feller interview was aired, Henrich died in Dayton, Ohio. He was 96.